---
Our Staff
---
Our staff is comprised of dedicated and licensed professionals with the experience to answer all your questions regarding our services. Please feel free to contact any of our staff members at any time.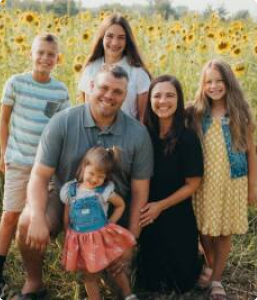 Miles & Tarah Wilson
Owner & Funeral Director
---
Miles & Tarah Wilson took ownership of Sheets & Childs Funeral Home on July 1, 2016. Miles serves as the funeral director and a pre-need professional. He also serves as the aftercare specialist, in this position he extends the funeral home's care to families long after the funeral service is over, assisting them with any needs they may have.
Miles is a graduate of Ivy Tech Community College's mortuary program, has successfully passed his national and state board examinations in mortuary science, and is a licensed embalmer and funeral director. In December of 2015 Miles & Tarah founded the Churubusco Youth Foundation, an organization that focuses on providing opportunities for the youth to have a safe place to grow and play. Miles & Tarah were honored to be selected as Churubusco Citizens of the Year in 2016.
Miles' family's roots in Churubusco go all the way back to the days of the infamous turtle hunt in 1948 when his great-grandfather, Charley Wilson, was one of the first to spot the famous "Beast of 'Busco." Miles grew up in the funeral service industry and is married to his high school sweetheart, Tarah. Together they have four children, Amira, Blane, Cambri, and Dariah. As a family they enjoy sports, being involved in community activities, and sharing outdoor activities.
Miles & Tarah are fully here to assist you with any questions you may have, or with any of the multiple services we offer. We are honored to serve the tri-county area.
---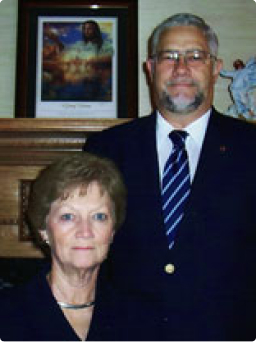 Vic & Sally Spear
Associate
---
Vic and Sally (Herron) Spear have lived all of their married lives in Churubusco. Both work as attendants at Sheets & Childs, and are active members of the Merriam Christian Chapel, where Vic serves as an elder. Vic has a special love for God's outdoor creation, and enjoys hunting and fishing in his leisure time. Sally is a retired long-time employee of Smith-Green Community Schools, and enjoys church activities, crafts, and homemaking. They have three children, four grandchildren, and two great-grandchildren. Both Vic and Sally bring to Sheets & Childs a lifelong knowledge of the community, a warm sense of humor, and a love for and dedication to people during life's most difficult times.
---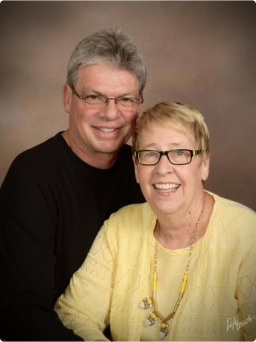 Connie (Hooten) Claxton
Associate
---
Connie (Hooten) Claxton has been employed with Sheets & Childs since May of 2013. Having moved to Churubusco when starting the 8th grade, she has lived in this area most of her life. She enjoys walking and bicycle riding with her husband. She is an active member of the Green Center United Methodist Church, and currently serves as the Chairman of the Administrative Board. She also served as a Sunday School teacher there for many years. Connie retired from Lincoln Financial Group after 38 years and is now enjoying giving back to her community by her service at the funeral home through her passion for helping families in their times of need. She and her husband Doug have one daughter and two "awesome" grandchildren.
---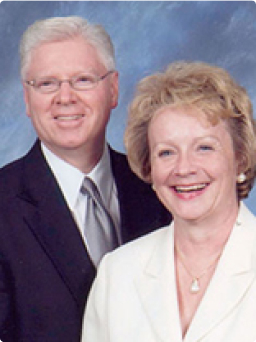 Greg & Jeanine Childs
Past Owners (1990 - 2016)
---
Greg and Jeanine Childs care about people and their needs, and had dedicated their lives to the service of others. They had been entrusted with the high privilege of directing the day-to-day operations of the Sheets & Childs Funeral Home since January 1, 1990. And although they owned and operated the firm, they have always felt like the Sheets & Childs institution belonged more to the tri-county community than to them.
---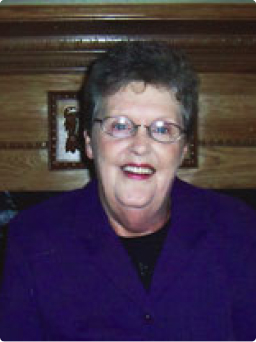 Eleanor Swinehart
August 17, 1931 - August 26, 2013
---
Eleanor served our funeral home and our community as an attendant for 20 years, and in that capacity endeared herself to families throughout Whitley, Noble, and Allen Counties. As we have given her back into the arms of her loving Savior, we thank God for her faithfulness, fierce loyalty, and true friendship.
---
Contact Us
We are available 24/7, 365 days a year. If you need our services immediately, please call us.
---